At Allstar Implants Plus, we're not only changing smiles, we're changing lives through our expertise in dental implants, cosmetic dentistry, and restorative dentistry.
Your smile is a key part of your unique look, personality, and how the world sees you. So just imagine-if only for a second-how having an attractive, healthy new smile could supercharge your confidence, improve your personal relationships, and just allow the real you to shine through!
Contact us to schedule your free dental implants or cosmetic dentistry consultation. We'd love to help you, too, discover the joy of a beautiful, healthy smile!
We invite you to see & hear from a small sample of our clients who have experienced the life-enhancing transformation of our cosmetic porcelain veneers & dental implant smile makeovers.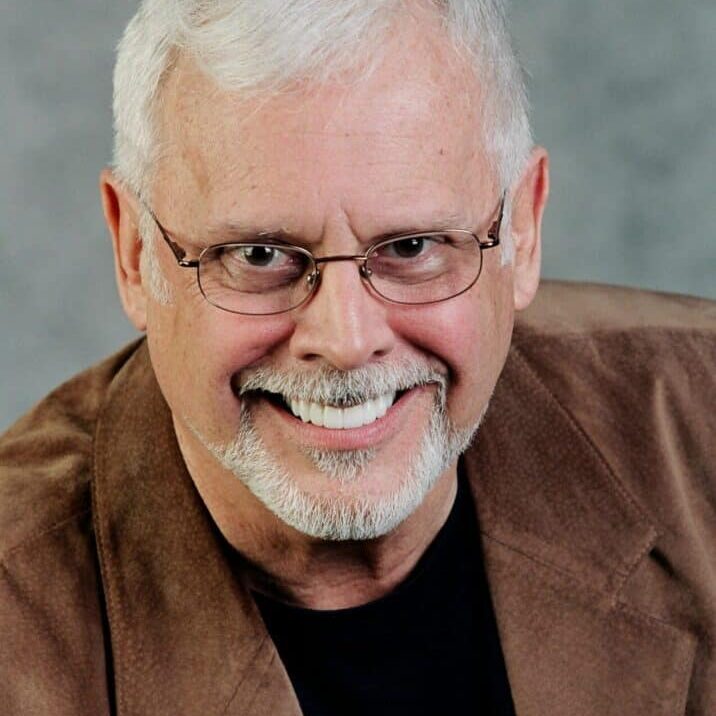 "Dr. Simos is not just a dentist; he is, also, an artist. I've had caps, crowns, and a bridge from others, and nothing ever matched. Dr. Simos is a Da Vinci of dentistry."
— Chuck
Chuck lives an active, healthy lifestyle. He cares about his appearance, and even though he had brightened his teeth, he wanted more.
Chuck came to us because he had always been self conscious about how crooked and crowded his teeth were, and as he had discovered, no amount of whitening could change that.
We custom sculpted 8 porcelain veneers for his upper teeth, and slightly re-contoured the lower front teeth to help improve his bite. This will help his teeth wear much less over the years, so he can enjoy his new, straight smile 'worry free' for years to come.
Chuck went from a crooked, bright smile which he felt didn't suit him, to an extraordinary, youthful-looking smile that lights up his face and radiates the confidence he has within.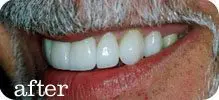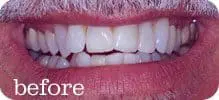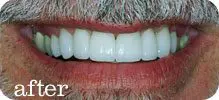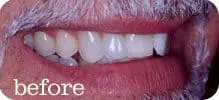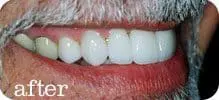 Tamara didn't like the disproportional look or yellowed tint of her smile, so she came to Dr Sam Simos to explore rejuvenating a smile she felt neither time nor dentistry had been kind to.
Years ago her two front teeth had been veneered, leaving her with two oversized front teeth that did not proportionally match the rest of her smile. And since yellow veneers stay yellow, she now found she couldn't completely brighten her smile as she wanted to.
To give Tamara the whiter, proportional smile she desired, we combined whitening her teeth with 6 custom-designed veneers-a perfect example of ultra-conservative cosmetic dentistry, with maximum impact.
In just 2 short visits, we were able to "turn back the clock." Now Tamara's smile exudes the positive energy and youthful exuberance that matches her personality.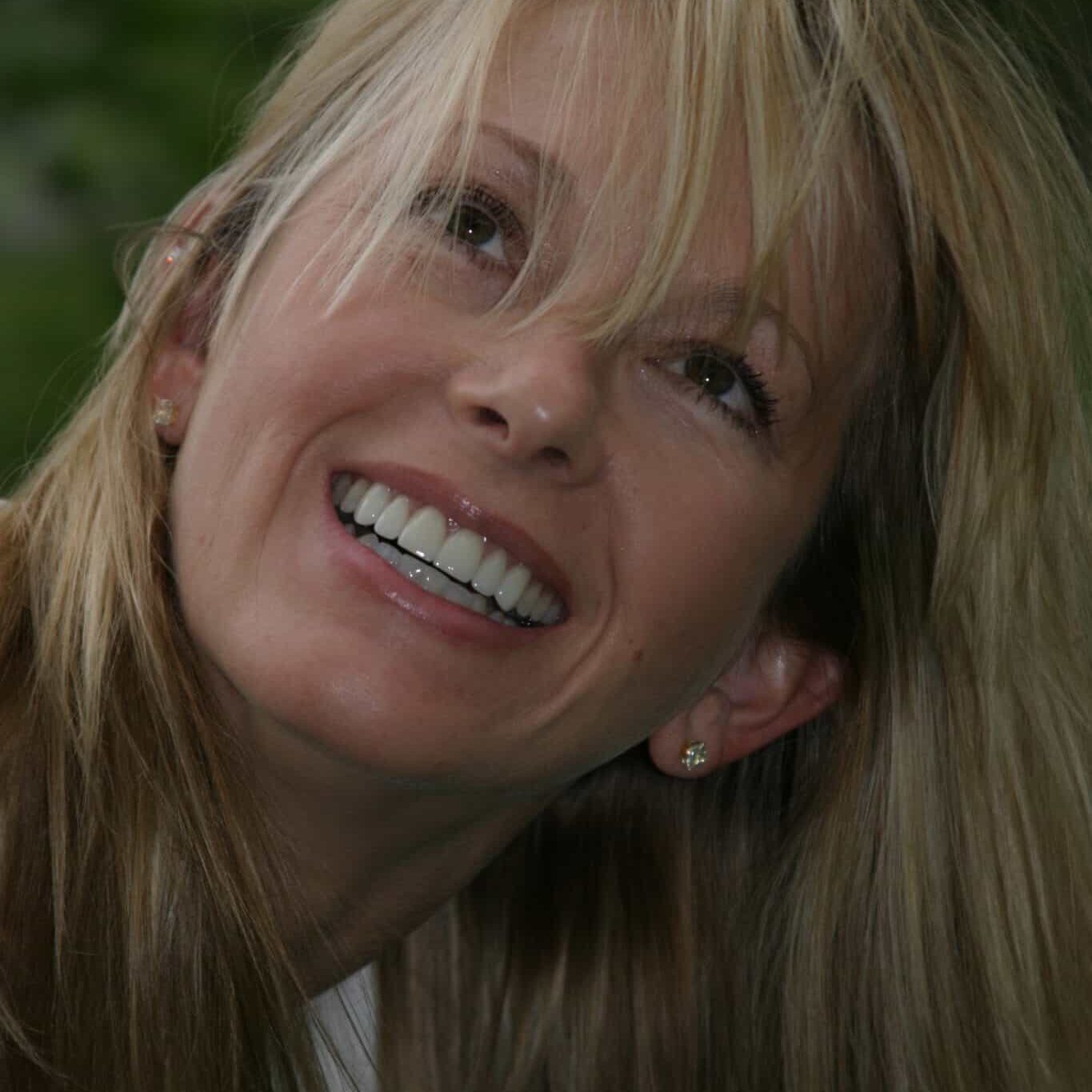 "My smile is bright, white, balanced and my teeth are in proportion.
Prior to seeing you, my teeth seemed dull and I felt all you saw was my top two teeth when I smiled.
Now, thanks to you, I consider my smile perfect!"
— Tamara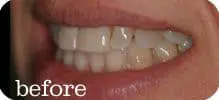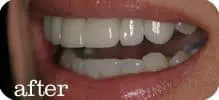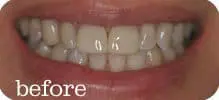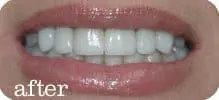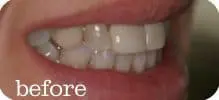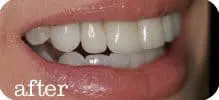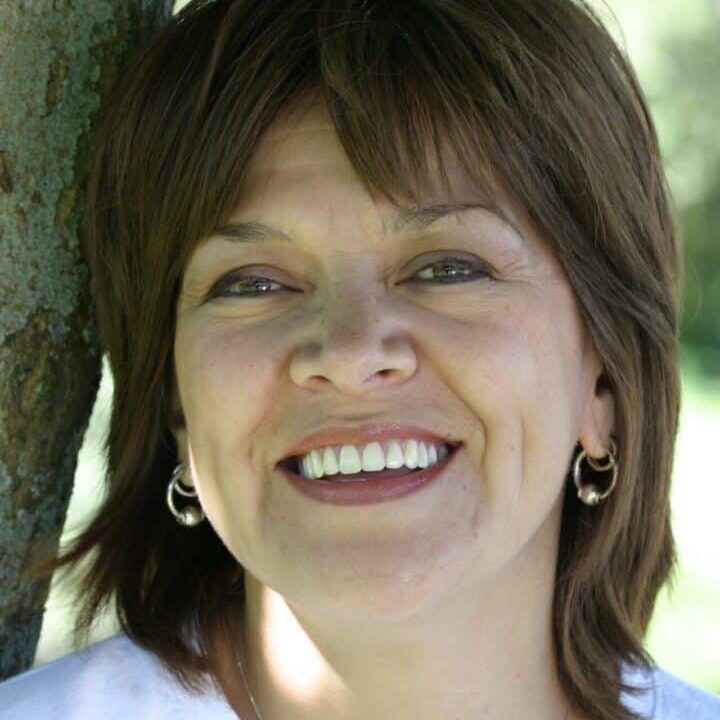 "My friends and family all compliment me on how much younger I look now!
I am so happy and satisfied with my decision to go to Dr. Sam Simos for my smile makeover.
He listened to my concerns and made every effort to meet my personal needs and make my smile look like the "old me" but at the same time the "new me."
Thank you, so much Dr. Simos for giving me something to really smile about."
— Mona
Mona came to our office looking for a "smile makeover." She was not happy with the look or feel of her teeth. Her lower jaw was pushed forward, her teeth were ground down, and even when she tried to smile naturally, she couldn't.
Mona felt her teeth were making her look older than she was-and she was right.
To solve Mona's problem with her bite, we used the latest in Neuromuscular technologies to painlessly allow her facial muscles to 'relax,' so her teeth could come together in a natural, comfortable resting position. This position then became the starting point for Mona's smile makeover.
So that the look of Mona's new smile would compliment her facial features and skin tones, we made our color and shape selections from both our smile catalogue and past personal photos of her smile that Mona shared with us.
Mona's rehabilitated bite and new custom-designed smile has given her an "instant facelift." She not only looks years younger, she now has a fabulous, natural smile that truly reflects her bubbly personality and zest for life.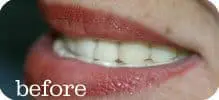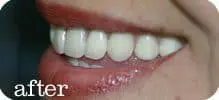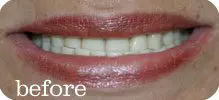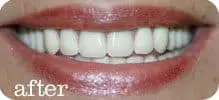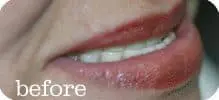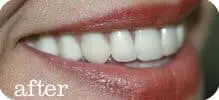 Patty came to Dr. Sam Simos with old, failing dentistry and tetracycline stained teeth. Patty is a teacher and involved with the community. She is outgoing and has a fantastic personality, and desired a smile that would reflect her personality, zest for life, and help her feel more confident.
Patty's case is state-of-the art conservative dentistry that artistically enhanced what nature had given her.  Dr. Sam Simos crafted eight porcelain veneers for Patty's top teeth and laser-sculpted her gums to compliment her custom smile design.
In just two hours Patty's smile was transformed into a youthful sophistication that totally exceeded her expectations, but yet was subtle enough for people to notice a difference in her-that they just can't quite place.
"Even though my teeth were fairly straight and even, I hated what time had done to the color. It was awful. I noticed everyone who had nice white teeth, and was very envious.
Now I LOVE MY TEETH! My friends love my teeth! I've been dreaming about white teeth for at least six years... Hey, my dream came true!"
— Patty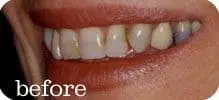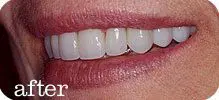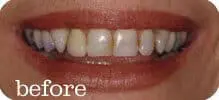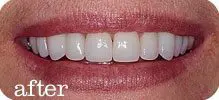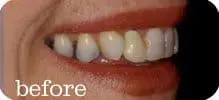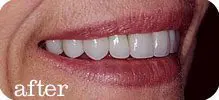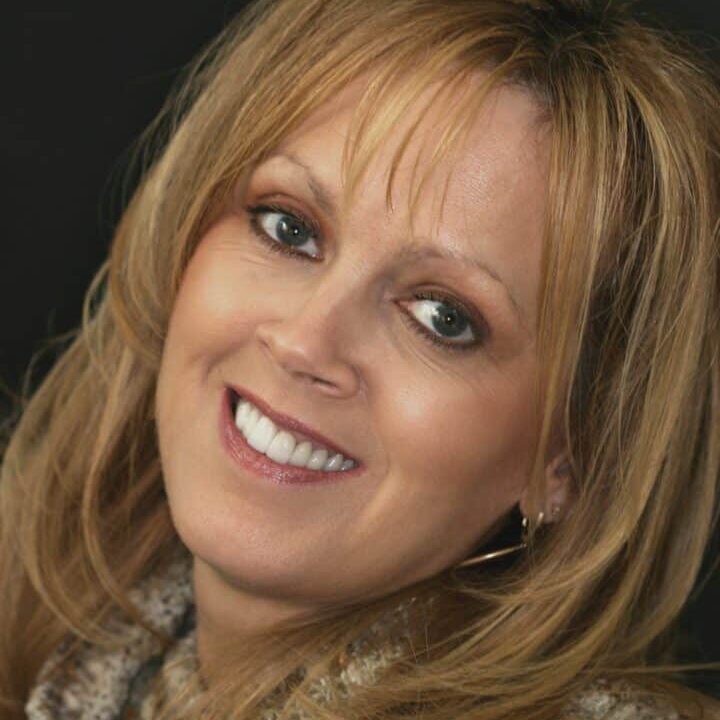 "I didn't like my smile for a long time. My teeth were dingy in color and my gums were uneven. I always tried to hide my smile, or not smile at all.
Now I can smile without hiding my smile. . . Everywhere I go people tell me my teeth look great, and how my new smile has changed my appearance-for the better. My new smile was a great investment-in myself!"
— Sandy
Sandy told us she had never been happy or comfortable with the look of her teeth and smile. She disliked what she referred to as her 'dingy' smile, and the uneven appearance of her gum line.
After listening to Sandy's desires, we evaluated a series of digital and diagnostic photos of her smile and her bite. We then carefully chose together the look, color, and shape of Sandy's new smile, placing porcelain veneers, and painlessly re-contouring her gums with our soft-tissue laser.
In just two appointments (only 1 ½ hours each appointment), Sandy achieved everything she wanted and more. She got the bright beautiful smile that showcases her fantastic personality, and we virtually eliminated her gummy smile.
Now she has the confidence to smile for no reason at all.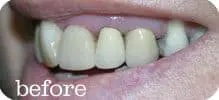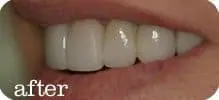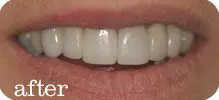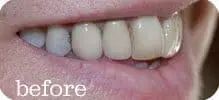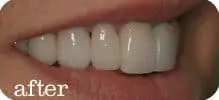 Kim came in to talk about a conversation she'd had with another dentist, who told her that if she were to have veneers placed, her teeth would look bulky and pushed out.
As with every client we see, we took a series of photos of Kim's smile. We discussed her smile and actually showed her a 'sneak preview' of her new smile with our digital smile imaging. She was amazed with what she saw, and no longer fearful of getting a poor result.
The graying of Kim's enamel added years to her appearance. To overcome this, we used the highest quality porcelain and individually custom shaped and shaded 10 ultra-thin Empress veneers. We took care to highlight the beauty of Kim's skin tones and facial features, while keeping the gray undertones of her dentin under wraps. The results-even better than the preview!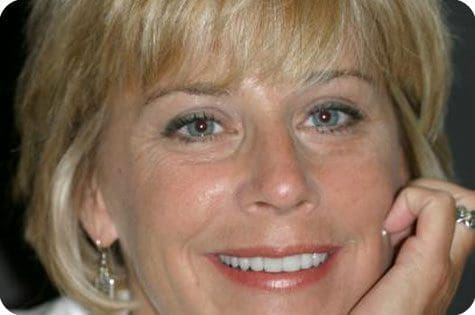 "I really love my smile now. Everyone in your office is always so friendly, and makes me feel so at ease. My 'gray' teeth bothered me for years, but not any more! Thanks for my smile!"
— Kim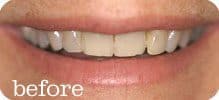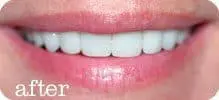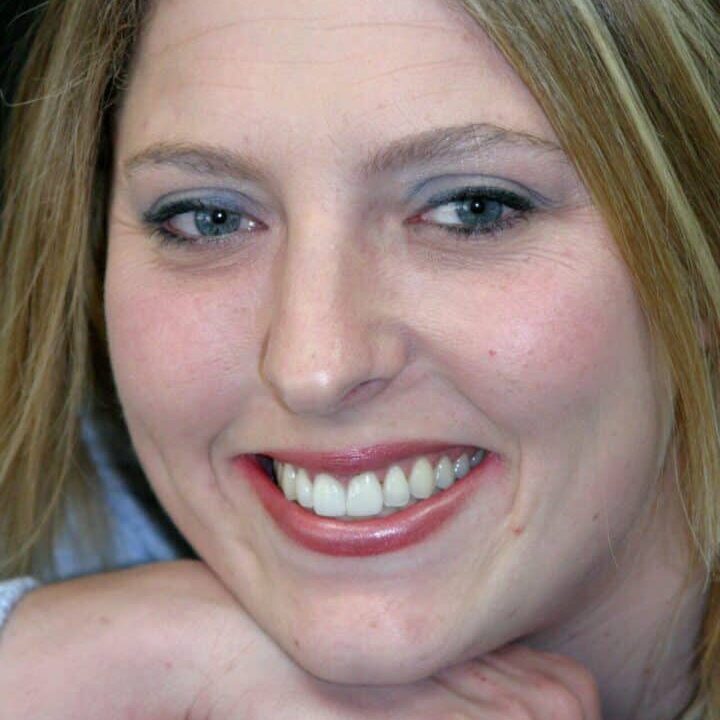 "All my life I hated the gap between my front teeth. Everyone told me I'd just have to live with it, even my orthodontist.
Allstar Implants Plus changed all that! I LOVE my smile! I wish I'd found Dr. Simos sooner, but I'm glad I found him now."
— Jenny
When Jenny first met Dr. Sam Simos, she told us she wanted to feel good about smiling-not self conscience. When he asked her what could help her feel more confident about herself, she immediately pointed to the large gap between her front two teeth, and just as quickly said she was on a budget.
After taking some photos and calculating a few measurements relating to the symmetry of Jenny's smile, Dr. Simos presented Jenny with a customized Smile Design; one that she couldn't pass up, and best of all, fit her budget beautifully!
The first step in Jenny's amazing transformation was to simply whiten her teeth, to even out the discolored, yellow areas around the eye teeth and make her teeth more youthfully white. The next (and final) step was to masterfully sculpt two fingernail-thin porcelain veneers and make them look as though they were there from the beginning. Mission accomplished!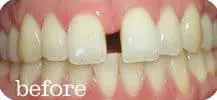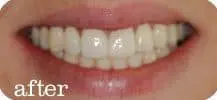 Julie had struggled all her life with deteriorating enamel on her front teeth. As a young working professional, Julie desperately wanted a smile that could give her the confidence she lacked in her business and personal relationships.
She decided it was finally time to go smile shopping! After reviewing smiles from our 'smile catalogue' with Dr. Sam Simos, we arrived at a Smile Design that fit Julie's needs best. The plan: custom-craft six porcelain veneers, artistically blended with her natural teeth, and whiten Julie's bottom teeth.
The result: a knockout smile that compliments Julie's natural beauty and vibrant personality.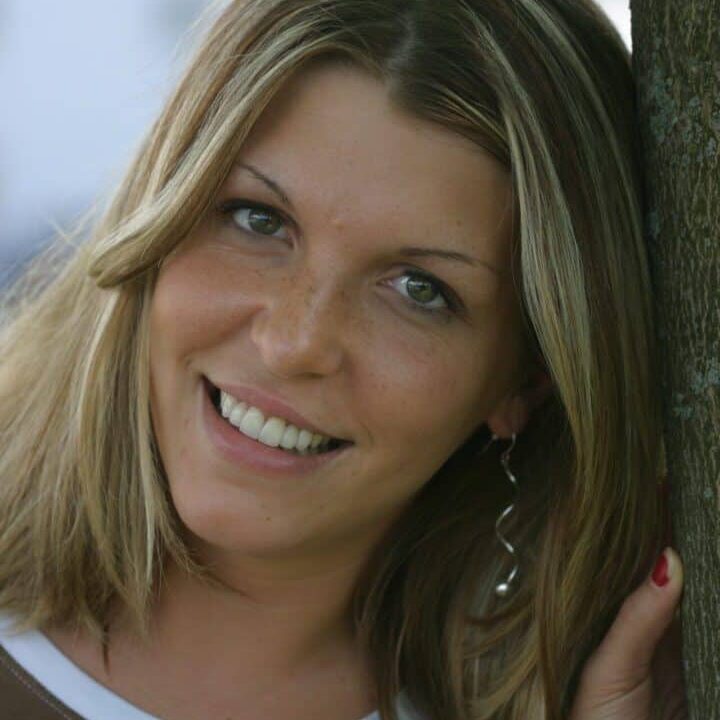 "My front teeth have been discolored forever, and I've always tried to avoid smiling. A few years ago, Dr. Simos had given my sister a beautiful smile, so I knew I wanted him to take care of mine, too.
I love my smile now! I don't even feel like the same person. Thanks so much for everything! "
— Julie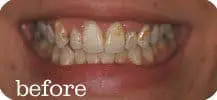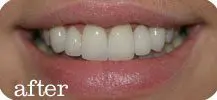 World class smile expertise
Feel comfortable & at ease
Affordable cost & no surprises
Let's Get Your Free Consult Started!