Cosmetic Dentistry & Dental Implant Expertise
Dr. Sam Simos received his Doctorate of Dental Surgery at Chicago's Loyola University. He is a graduate of the comprehensive surgical program at the Misch Institute for Dental Implants in Michigan, and of the Pikos Institute, leading post-graduate dental implant training centers.
Teaching dentists
Dr. Simos has been a clinical instructor at the Las Vegas Institute for Advanced Dental Studies. He teaches post-graduate courses for dentists on dental implants and cosmetic dentistry through Allstar Smiles' state-of-the-art Learning Center and client facility in Bolingbrook, IL and throughout the country.
Dr. Sam Simos is an internationally published author on the use of dental implants, cosmetic dentistry, and digital and 3D printing in dentistry.
VIP Clients
Counted among Dr. Simos' clients are celebrities, Grammy Award Winners, and people from near and far who've sought out his expertise for their smile.
VIPs Choice for Cosmetic Dentistry + Dental Implants
Visit our offices and you'll find photo collections on display that capture the beautiful, healthy and grateful smiles of our clients.
Among them are international opera stars, Grammy Award winners, high-profile executives, and people from near and far who have sought out the cosmetic dentistry and dental implant expertise of Dr. Sam Simos for their smiles.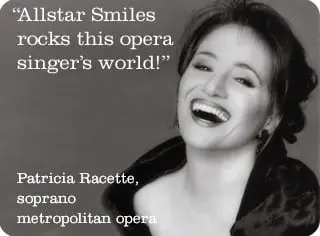 "To us, each and every one of our clients—from celebrities to soccer moms—are VIPs, who receive healthy, naturally beautiful smiles that are second to none. That's what we do best."
—Sam Simos, DDS
Depending on your choice of services, you can discover the power of a beautiful, healthy smile in as few as one or two appointments.
Implant Dentistry
If you're missing one or more teeth, you've probably discovered that there are a few other things you're missing too, like your natural smile or the ability to eat all the foods you love. Fortunately, with today's advanced dental implant solutions, you can replace missing teeth with dental implants, a life-long solution that will help you regain your teeth's natural function, and have you smiling and enjoying life again with confidence.
Dental implant procedure
Our dental implants expertise means we can surgially place your dental implants and bone grafting as needed, plus design and place your beautiful new smile for your all-on-4 or snap-in implant dentures, dental implant bridges, and single tooth dental implants.
As the only solution that replaces both the missing teeth and root structure, dental implants play a critical role in preserving your surrounding bone structure, making dental implants the preferred missing teeth restorative choice over fixed bridges, partials or removable dentures.
The dental implant consists of a small post made of titanium, a biocompatible material that our bodies won't reject, which we place in your jawbone. As the dental implant post bonds with the bone, it serves as a replacement for the root portion of the missing teeth, providing strength and stability for your new replacement tooth.
Dental implants at Allstar Implants Plus
From the simple to the complex, we'll care for your entire dental implant treatment in our office from start to finish. You won't need to see multiple dentists who focus on just one aspect of your dental implant treatment, or travel to different offices. Whether you need a single dental implant, bone grafting, or multiple dental implants placed, our comprehensive dental implants and restorative experience combined with our one-on-one highly personalized care ensures you'll get long-lasting results for the health, beauty, and function of your smile.
Our first step in your dental implant treatment is a comprehensive evaluation of your existing teeth, bone levels, and medical history.
High-tech dental implant imaging
As part of your diagnostics and dental implant treatment planning, we'll use the latest in 3D CBCT imaging. The 3D CBCT scan allows us to see cross-sectional and three-dimensional views of your jaw and existing teeth, from which we can determine the breadth (width), depth (length), and density (thickness) of your jawbone in the areas dental implants are desired. With this detailed information, we can determine with precision the dental implant placement, optimal dental implant size, and type of dental implant, as well as any areas requiring additional bone support (via bone grafting) to ensure optimum results.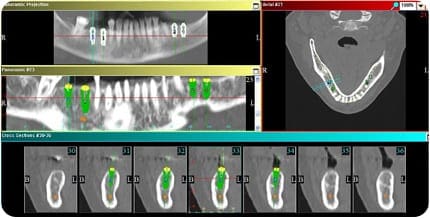 Once your dental implant treatment plan has been determined and agreed upon, your dental implants will be placed. For your comfort, we'll use anesthesia and relaxation techniques to help eliminate any discomfort or fear you may have regarding your dental implant treatment.
Dental implants same day
A question we are commonly asked is: "When will I have new teeth in my smile once my dental implants are placed?" Our answer: The day you come in for your dental implant placement, you'll leave our office with teeth in place too!
Dental implant benefits
With 40+ years of clinical research and a remarkable overall success rate, dental implants have the best long-term prognosis of any method of tooth replacement, making dental implants the clear easy choice for replacing missing teeth. The primary benefits of dental implants include:
Dental implants preserve bone levels. When a tooth is lost, bone deterioration (resorption) begins within a very short period of time from a lack of bone stimulation. By placing dental implants, we help preserve the bone levels in your jaw, providing a strong, stable foundation for years to come, making dental implants superior to bridges, partials and dentures.
Dental implants look, feel & function like natural teeth. Since a dental implant is anchored securely in your jaw, the permanent all-ceramic crown we place on the dental implants functions far better than a traditional bridge, partial or denture, allowing you to bite and chew once again with comfort and confidence.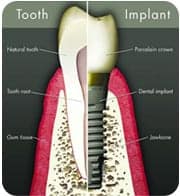 Dental implants help maintain integrity of facial structure. By preventing the bone deterioration that would normally occur with missing teeth, the facial structures remain intact when dental implants are placed. This is particularly important with multiple missing teeth, as the lower one-third of the facial profile can appear to 'collapse' or sag if dental implants are not placed to preserve the bone, giving you a prematurely aged appearance.
Dental implants: the clear choice
The success rate and multi-faceted benefits of dental implant placement as a long-term restorative solution make today's dental implants the clear easy choice for replacing missing teeth. With your new dental implants, you can regain the capabilities you once had with your natural teeth, giving you a second chance at eating, laughing, and simply enjoying life with confidence!
If you're considering improving your smile with veneers, you're not alone. All-porcelain veneers are possibly one of the greatest advancements in dentistry today, and can be used to straighten your smile, close gaps, correct crowding, brighten your smile…the list goes on.
Bonded directly to the front surfaces of the teeth, veneers are fingernail-thin all-porcelain coverings that are virtually undetectable and highly resistant to stains. In as few as two appointments, we can transform your smile, giving you the beautiful, natural-looking smile you've always wanted.
"Allstar Smiles has truly been a life changer for me. Through the years I struggled with other dentists, trying to make improvements, but never satisfied. My first visit to Allstar Smiles I knew, this was not going to be another failed attempt.
My entire life before the transformation I was constantly conscious of my discolored, crooked teeth and would seldom smile because of them. I now have a smile I can be proud of. No more hiding. Dr. Simos, you've turned my frown upside down! Thanks!"
– Mary W.
Enhance your beauty-naturally
Let's face it, we've all seen people whose dental work is easy to spot. Mismatched crowns, bulky or disproportional veneers, and 'fake'-looking smiles that make you notice what you shouldn't.
To get beautiful, natural-looking results with cosmetic restorations not only requires extensive Smile Design experience, but also craftsmanship of the highest caliber. In our office, we work closely with other artisans-master ceramists-who individually hand-craft the most beautiful, natural veneers for your smile, based on our precise specifications (color, shading, shape, proportion) and of course your own requests.
A little goes a long way
When considering veneers, a common question arises-namely the degree to which your natural tooth structure is reduced. As you might expect, the answer lies in the specifics of the Smile Design case, and the technical and artistic skills of the cosmetic dentist. In our office, we use our expertise to carefully plan each step of your Smile Design so that a minimum amount of natural tooth is altered with your veneers.
Visit ourSmile Gallery to see a small sample of our Smile Designs
Schedule your complimentary consultation today!
Would you be surprised to learn that millions of people in the U.S. are missing all of their upper or lower teeth, or both? If you're one of these people, you've most likely experienced being unable to eat and chew all the foods you love, or the embarrassment of unsecured dentures that slip or click at the worst possible moments.
Fortunately, today's complete dentures design and advanced dentures materials offer solutions that enable your conventional dentures or implants dentures to more closely mimic your natural teeth's function, letting you smile & enjoy life again with confidence.
Complete dentures at Allstar Smiles
At Allstar Smiles we have combined the latest in Neuromuscular dentures technologies with new concepts in dentures design to create smiles with dentures that look more youthful and natural than ever before, and fit comfortably and securely so that you can smile with confidence every day.
"My friends and family all compliment me on how much younger I look now! I'm so happy with my decision to go to Allstar Smiles for my dentures smile makeover. Dr. Simos listened to my concerns and made every effort to meet my personal needs. I've never been as comfortable as I was in his office.
Thank you so much Dr. Simos for giving me something to really smile about."
– Mona
You may be surprised to learn that most 'regular' dentures are constructed with standard materials, and the shape and shade selections of the dentures teeth are most often left to a laboratory that doesn't know anything about you, with little consideration if any given to the way the dentures will work with your facial and chewing muscles. The result is poor fitting complete dentures that can leave your face appearing drawn or sunken in, adding years to your appearance.
In contrast, at Allstar Smiles we custom design your complete dentures using the latest in Neuromuscular dentures technologies. Our first step is to painlessly help your jaw and facial muscles find their natural, comfortable resting position so that you get both great fitting dentures and great functioning dentures, alleviating the anxiety so often caused by loose dentures.
Our next step in your custom dentures design is to select the shape and shade for your new complete dentures that best compliment your individual facial features and natural skin tones. We'll then create your new cosmetic complete dentures from the latest wear-resistant material, engineered to mimic the translucent qualities and long-lasting wear of real tooth enamel.
Immediate dentures
Whether you're considering conventional complete dentures or implants secured dentures rest assured that you won't have to go without any teeth once your natural teeth are removed for your dentures.
So that you don't have to see multiple doctors or travel to different offices, we'll care for your entire dentures treatment in the comfort of our office from start to finish. While your gums heal, you'll be able to eat and smile naturally with same day dentures that look and feel like your final teeth, so that you don't have to miss a single beat.
Denture partial
If you have partial areas of missing teeth, then a denture partial may be the right solution for you, given your budget and your lifestyle. Similar to our complete dentures, we'll custom design your denture partial using the latest in dentures materials and dentures design, cosmetically blending your denture partial with your natural teeth for an attractive look and comfortable bite that lets you be at your best.
Alternatively, you can replace missing teeth with dental implants, a life-long solution that will help you regain your teeth's natural function while preserving the bone levels in your jaw.
Dentures benefits
Allstar Smiles custom-fitted complete dentures or denture partial expertise can help you regain the capabilities you once had with your natural teeth. With a comfortable and secure fit, your new complete dentures or denture partial can let you turn back the hands of time, giving yourself a more youthful appearance and a second chance at eating, smiling, and simply enjoying life again with confidence.
Let's get your free consult started!